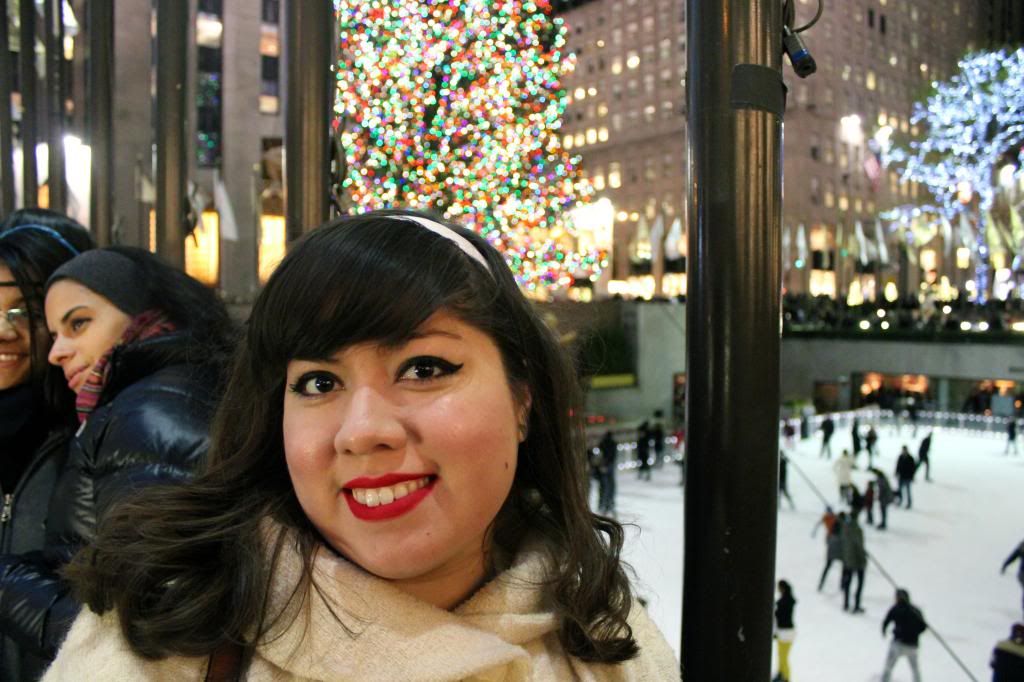 Christmas is my favorite time of year. I get so excited that I'm even known to buy gifts months in advance and start wearing ugly/awesome Christmas sweaters the day after Thanksgiving. It's a month of lights, sparkles, family, friends and lots and lots of hot chocolate. As the festive day approaches, I thought I'd share a list of my favorite things this holiday season:
1.
The Christmas Tree at Rockefeller Center
I literally tear up every time I see the tree lit up for the first time. I always feel like I'm over reacting, but the sparkliness of it all never gets old.
2. Holiday Markets
I always discover something new at the ridiculous amount of holiday markets in NYC. I go for the delicious food, but love seeing independent designers being entrepreneurial.
3. Gift Guides
I rarely buy anything, but I love lists and the feeling of discovery. The
possibilities are endless!
4. Buying Presents
Whether through thrifting, holiday markets or gift guides, I love finding that one perfect gift for the people I care about.
5. Going Home For Christmas
I know these first few things are pretty consumeristic, but it comes down to how much I love giving back to my family and friends, who are amazing all year round. This year, I'm incredibly excited to go home to Texas for the holidays and see my entire family.
6. High School Friends
Going home also includes seeing high school friends! We rarely, if ever, speak throughout the year, yet I know if I'm back in my hometown, someone will organize a get-together and we'll laugh and catch up as if no time has past. I can't wait to give them all a great, big hug!
7. Food
I'm beyond excited to eat a bunch of Tex-Mex, along with holiday treats. Yum! Breakfast tacos here I come!
8. Decorating My Small NYC Apartment
Every year, I scour the dollar store for awesomely tacky tinsel, Christmas lights and candles to decorate. It helps me get in the holiday spirit!
9. Stockings
This year, I stocked up on dollar store goodies to stuff in my friends' stocking and we all celebrated by watching Elf and customizing our own stocking with glitter pens. It was a fun, crafty night.
10.
Decorating Sugar Cookies
Along with decorating stockings this time of year, I also like to get creative with my cookies.
11. Making a Christmas Crown
I've become crown obsessed and holidays are the perfect theme and excuse to make more!
12. Christmas Cards
I try to send cards every year, I love the idea of people getting as excited as I do over mail. I hang my head in shame this year though as I failed my Christmas card recipients.
13.Ugly/Awesome Christmas Sweaters
Tis' the season! I have some truly fabulous Christmas sweaters up my sleeve...I'm talking cats and peter pan collars. I've pretty much been rocking them all month long.
14.Christmas Movies
Every year, I watch a Miracle On 34th Street and remember the fact that I believed in Santa Claus till I was an actual teenager (13 to be exact).
15. Hot Chocolate
I have important opinions on this delicious beverage! Rookie recently wrote an article on

hot chocolate reviews

and I got really passionate about it. So far, the two best places I've ever had hot chocolate are

El Beit

in Williamsburg, Brooklyn and

Mi Tierra's

in San Antonio, Texas. El Beit's $4 hot chocolate is exactly what you'd expect for the price: pure, thick chocolate-y goodness and Mi-Tierra's is the only place I've had deliciously legit mexican hot chocolate, especially since most places in NYC think mexican hot chocolate is hot chocolate with chile pepper. I'm pretty into the stove-made Abuelita version as well.
16.
Specialty Holiday Drinks
Although I love pumpkin everything, the sludge at the bottom of Starbuck's pumpkin latte kind of freaks me out. The gingerbread latte is pretty delicious though and most pumpkin lattes at other cafes are usually yummy.
17.
The idea of ice skating
Yes, I said the "idea of." I'm kind of a klutzy person and I can anticipate it not going well. The idea though is incredibly romantic and I keep watching Serendipity and couples at Rockefeller Center for all my ice skating needs.
Sparkly sequin costume and elaborate dance numbers..what's not to love?
19. Ronnie Spector Christmas Spectacular
Ok, this might not count since I accidentally miss it every single year, but I adore Ronnie Spector and am seriously glad this exits. Next year, I promise to attend!
20.
The Nutcracker
When it comes to Christmas shows, The Rockettes and Ronnie Spector are a celebrated New York love, but The Nutcracker in
my hometown
has a very special place in heart. I was a mini ballerina many productions ago and every year, as I watch the sugar plum fairy, nostalgia can't help but get the better of me. It's such a classic production with so many memories and, as a Joss Whedon fangirl, I honestly still get excited that I used to dance alongside former-ballerina, Summer Glau, nerd goddess to us all.